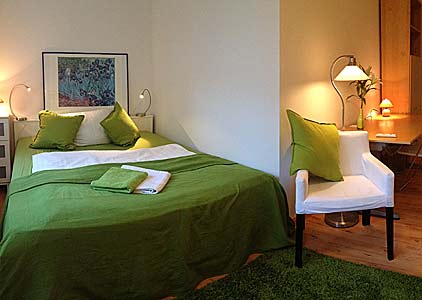 Unterkunft in Berlin

Alojamiento en Berlín
The situation of the private accommodation in Berlin Prenzlauer Berg

The accommodation is situated in the "scene-area" from Berlin - close by to the Berlin Kollwitzplatz and water-tower, one of the most-frequented club and bar centres in the new Berlin.
On foot you reach all further corners of the Berlin Prenzlauer Berg - like...
the Kulturbrauerei (cinemas and a lot of clubs) or
the Lychener Straße with more bars and cafés (by the way, there is a wonderful Cuban with good Mojito and a bar named "Weinstein" with Topinki - Czech invention for all of those that like garlic, plus the "Kegelheim" where you can play on the traditional Kegelheim - German 9-pin bowling in the cellar underneath the bar) or
the Knaackstrasse with the café Pasternak, a russian restaurant with live music and just some steps away the "Hausbar", in which you still quench your thirst until five o'clock in the morning
the Helmholtzplatz (the "old" heart of the Prenzlauer Berg) with the related Dunkerstrasse - a quarter with formerly many occupied houses
the Jewish cemetery (high-ranking personalities have their last quiet site here, for example: Max Liebermann, Ludwig Bamberger, Eduard Lasker, Giacomo Meyerbeer)
the Oderberger Straße (.... more bars, cafés and bistros...) or
the Friedrich Ludwig Jahn - sporting park with the Max Schmeling - hall (various music and other events)
and the Mauerpark.
So you can see - it will surely not be boring, even you don't leave the area around the flat.
But don´t worry- the Alexanderplatz, Hackescher Markt and the Oranienburger Straße in the district Berlin-Mitte or further parts of the city are easy to reach. You have connection to subway, busses and streetcars. Or you can just walk to Alexanderplatz within 10-15 min. And if you are in a hurry: A taxi stand is around the corner. Down to the Alexanderplatz it is just a 10 minutes walk on foot.